At Vitality Family Health, we believe that an informed decision is the best decision that you can make for your family when it comes to vaccines. Whether you want to follow the CDC's or AAP's immunization schedule, a vaccine friendly/alternative schedule, co-create a vaccine schedule of your own, or ultimately choose not to vaccinate, we want to support and help educate you every step of the way.
Unfortunately, many providers across the nation follow many practices, including immunization schedules, without always asking "why." Conversely, our holistic approach to medicine keeps us asking "why," and we encourage our patients to do the same.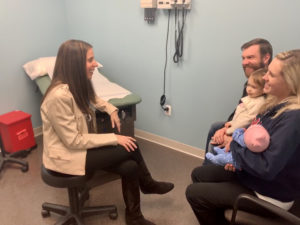 As functional medicine providers in Oak Brook, IL, we want to give you the ability of choice when it comes to making the most informed decisions regarding vaccines for yourself and/or for your children. Just like a snowflake, everyone is unique, and we work with you to tailor a vaccine schedule that aligns with your values and lifestyle. 
With this in mind, let's take a look at an example of an vaccine friendly/alternative schedule that some parents are choosing to adopt and compare it to the standard recommended immunization schedule from the American Academy of Pediatrics*:
American Academy of Pediatrics Recommended Vaccine Schedule (2004)
​Age Recommended Shots
1 or 2 months Hep B #2
2 months HIB, Pc, DTaP, Rotavirus, Polio #1
4 months HIB, Pc, DTaP, Rotavirus, Polio #2
6 months HIB, Pc, DTaP, Rotavirus, Hep B #3 
1 year MMR, Chickenpox, Hep A #1, HIB, Pc #4
18 months DTaP #4, Polio#3, Hep A #2
2 years Hep A #2 (if not given at 18 mo visit)
4 – 6 years DTaP#5, Polio #4, MMR #2, Chickenpox#2
9 – 12 years Tdap, Meningococcal, HPV (3 doses, girls only)
Influenza (Flu) vaccine yearly in the fall after 6 months of age. 
Vaccine Friendly/Alternative Schedule 
Age Recommended Shots
Pregnancy No Vaccines (No Tdap, No Flu)
Birth No Hep B
2 months Hib, DTaP (No Hep B, Rotavirus, IPV)
3 months Prevnar
4 months Hib, DTaP (No Rotavirus, IPV)
5 months Prevnar
6 months Hib, DTaP (No Hep B, Rotavirus, IPV)
7-9 months Prevnar
1 year Hib, Prevnar (No DTap, MMR, Hep A)
18 months DTap
2 years (No Hep A)
3 years Consider MMR (always give MMR by itself)
4-6 years DTaP, (consider Varicella by itself, IPV series)
10 years Tdap (boost every 5-10 years)
11 years Menveo or Menactra (meningococcal), Varicella
12-14 years Hep B (3 dose series)
16-18 years Menveo or Menactra & consider meningococcal B, Hepatitis A
Before making any decision regarding vaccines, please consult with one of our providers at our primary care center in Oak Brook, IL. We can provide you with all of the tools you need to make an informed choice about immunizations for your family, along with offering unwavering support for whatever decision you make. 
*These schedules are primarily for informational and educational purposes and should not be used in place of actual professional medical advice from primary care providers or doctors. Additionally, these schedules are in no way the standard for our medical practice, as we support all vaccination schedules or lack thereof, that our patients and parents choose to follow.